ScanNCut Rotary Blade Quilt
The ScanNCut DX's rotary blade is the perfect quilting partner. It's super sharp blade accurately cuts material and stops fabrics fraying.
To make the most of the ScanNCut DX Rotary Blade Quilt we've put together a free five-part quilt-a-long project.

We've used the Flower Posie and Hedgehog designs from the ScanNCut Rotary Blade Kit to make the flowers, stems and leaves as well as the cute little hedgehogs. The outer border is made from Dresden Fans, interspersed with six butterflies.

There's some tricky piecing involved with this quilt, so pay attention! 😊
Skill level indication
Quilting techniques: intermediate quilters.
ScanNCut: crafters with some experience.

General information
Finished size: 46 x 56" (117 x 143cm).
Seam allowances: ¼" (7mm) throughout, except for appliqué pieces, which have no seam allowance.

Abbreviations
WOF: width of fabric (44" / 110cm).
DSF: double sided fusible interfacing, we used Brother Appliqué Support Sheet (CASTBL1).


Materials needed

Fabric
You'll need ten to twelve small floral prints in a variety of colours (to make the three pieced strips) - one 2 3/4 " (7cm) wide strip by WOF of each fabric.
The width of the each fabric needs to be 44"/112cm).
Small peach or pink print (Dresden Fans and Hedgehogs' bodies): 30cm
Medium to large scale, peach or pink (Dresden Fans): 30cm
Green print (Dresden Fans): 30cm
White background fabric: 1.2m
Medium scale yellow print (butterflies' wings): 12 x 24" (30 x 60cm)
Medium scale blue print (butterflies' wings): 12 x 24" (30 x 60cm)
Medium to large scale monotone print in two tones of yellow (flowers): 30cm
Selection of beige and light brown prints for the hedgehogs' spikes: 10cm each of 3 to 4 prints
A scrap of dark brown fabric for the hedgehogs' noses
Light peach small scale print (hedgehog's body): 12" (30cm) square
Batting: 48 x 58" (125 x 148cm)
Backing: 48 x 58" (125 x 148cm)
Small to medium size black and white sepia toned gingham (90cm): (border and binding). Use a fabric that is printed on point (45 degrees rotated). This makes it easier as you do not have to cut bias strips. If you cannot find one that is printed on point, cut bias strips, allow an extra 30 – 50cm.
A fat 8th each of Med to dark green, Light green small scale green print and Light green plain fabric.
Fabric selection notes
Pick a variety of colours, all in the same tonal value – so not too much contrast for the pieced strips.
We chose a combination of small prints from the following collections:


Fresh Fig Favourites by Fig & Tree
Figs & Shirtings by Fig & Tree
Break of Day by Sweetfire Road
Spring Brook by Corey Yoder
Thread
General sewing thread in a neutral colour like light grey or beige, for piecing.
Green and yellow thread to match your stems, flowers, and the hedgehogs' body and spikes – we used variegated machine quilting threads from Madeira and Gutermann.
White thread for quilting.
Other
2 x small black or dark brown buttons for the hedgehogs' eyes.
A selection of yellow, orange, pink, peach, blue and green buttons to use as the centres for the 3D flowers and flower buds. We had a look in the button tin for these – much more interesting than buying new ones. 😊
Matching thread to sew the buttons on.

Equipment needed

ScanNCut DX machine with:
Other equipment
Rotary cutter
Cutting mat
Quilter's ruler
Sewing machine
¼" sewing foot, open toe free-motion foot and Stitch-in-the-Ditch foot
General sewing supplies




Instructions
Today we're going to cut and piece the centre strips and the appliqué panels.
Once you have completed this part you can move onto the next parts of the quilt.

Part 2 – Dresden Fans
Part 3 – Butterflies
Part 4 – Assembling and quilting
Part 5 – Finishing touches


Floral centre strips:
Cutting list

Step 1a
Cut rectangles from floral fabrics as instructed in the table above.

Tip: you can cut them using a standard rotary cutter and cutting mat.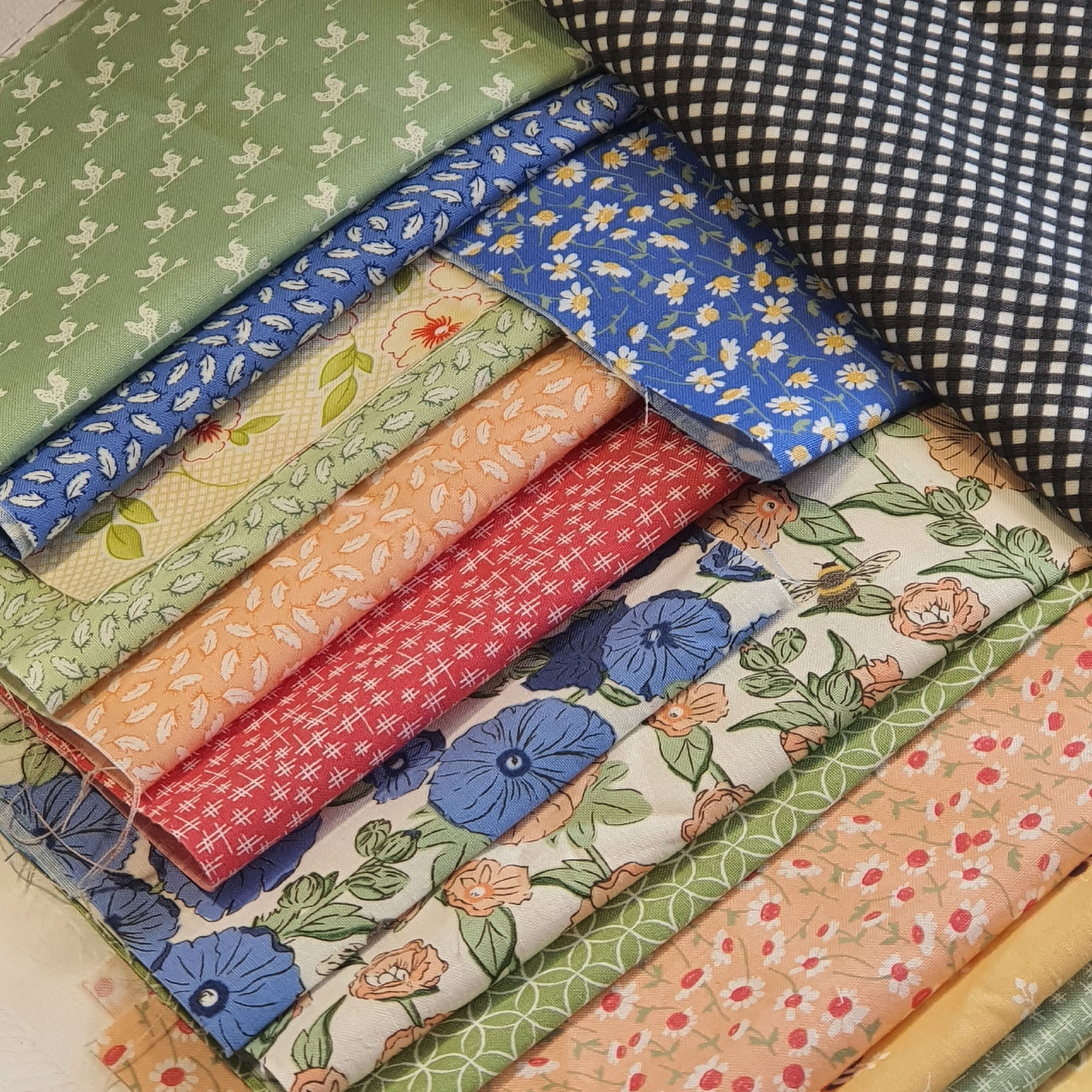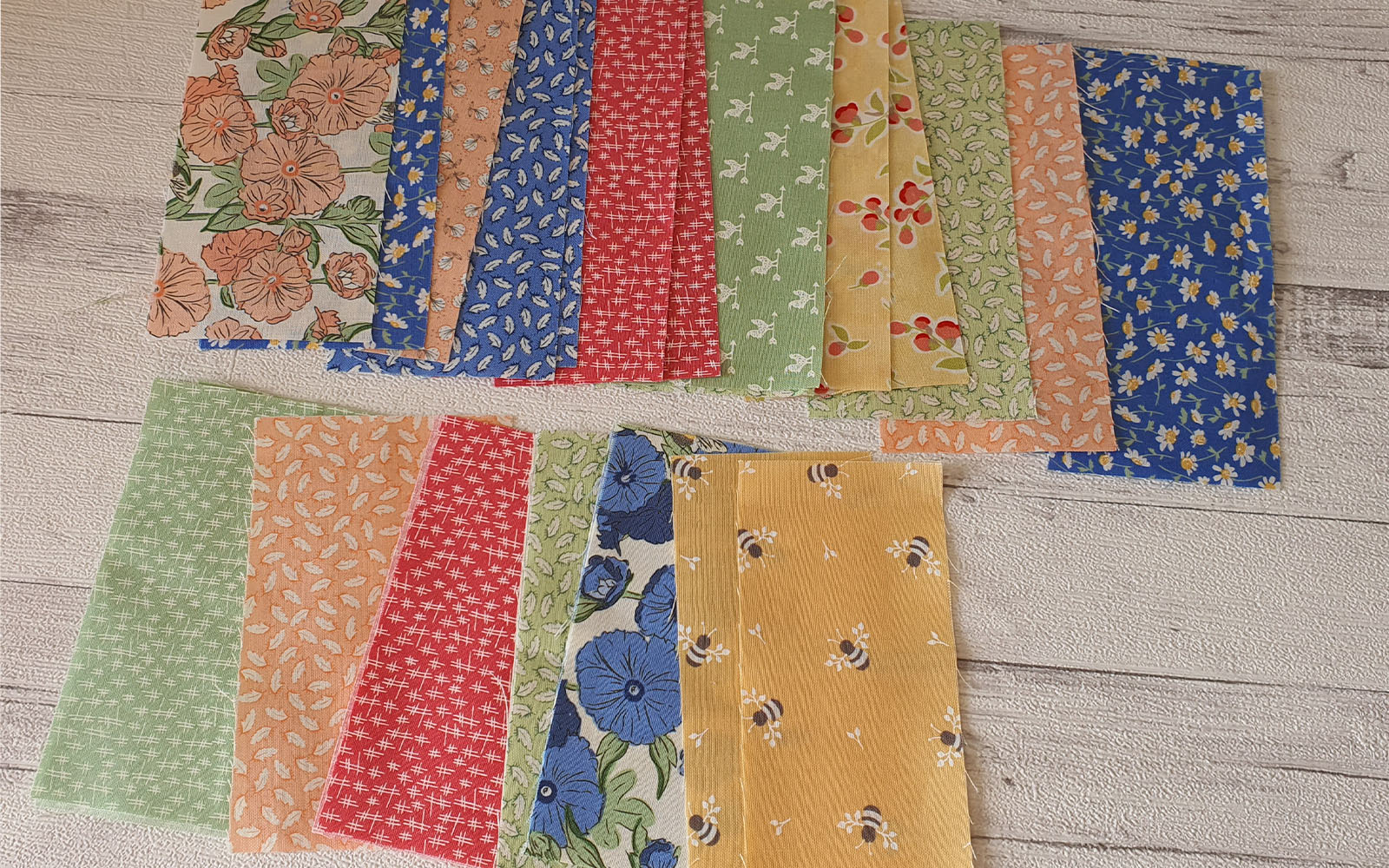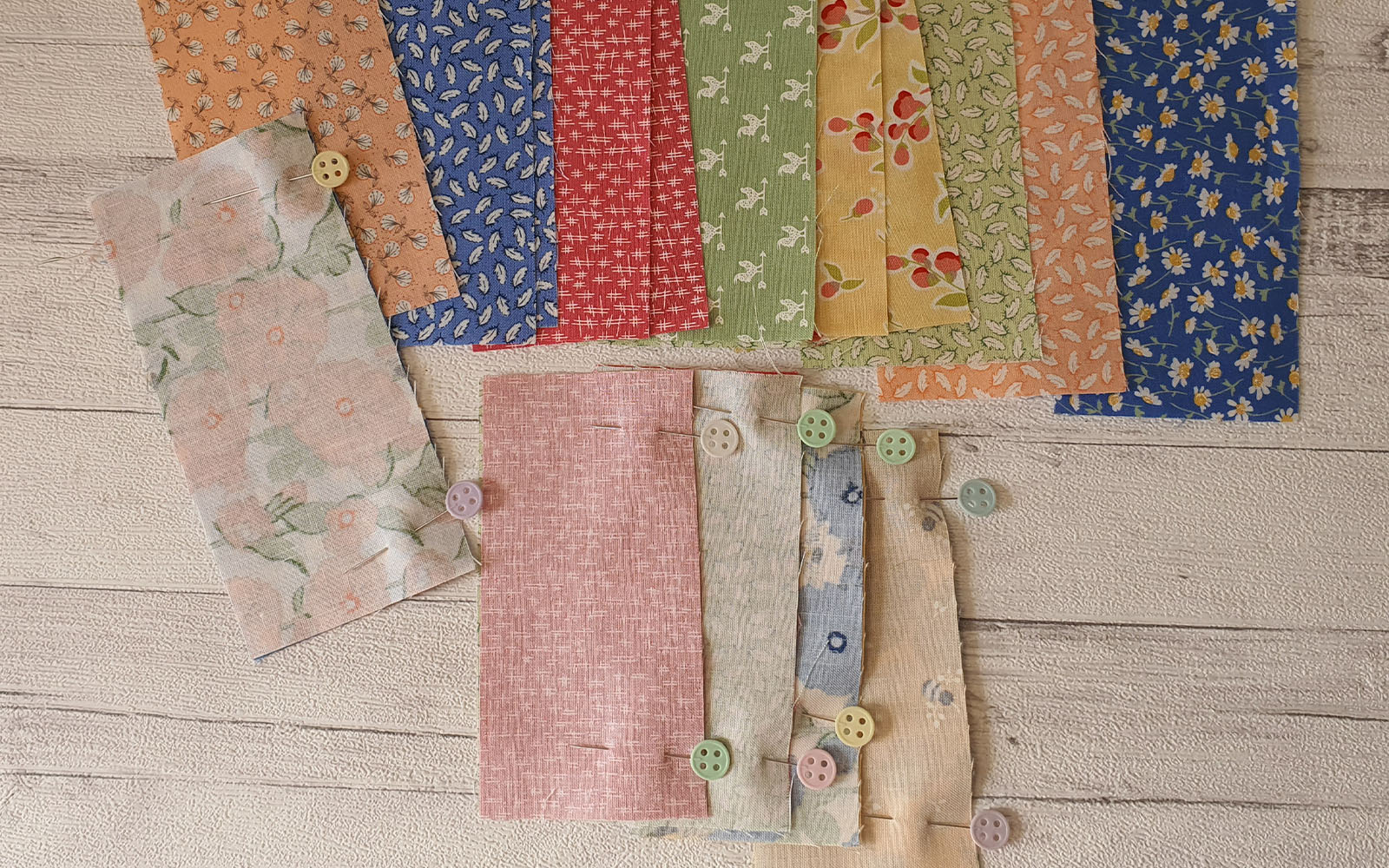 Step 1b
Arrange your fabric pieces into strips:
2 x strips each consisting of 19 of the larger rectangles,
1 x strip consisting of 19 of the smaller rectangles.
Shuffle the colours for an even distribution. Take a look at our sample images to get a feel for how to arrange them.

Step 1c
When you are happy with your arrangement, pin them and sew together. Press all seam allowances to one side.
Flower and hedgehog appliqué panels

Step 2a
Download the following designs from the Rotary Blade Starter Kit (CADXRBKIT1) and send them to your ScanNCut DX machine.
Step 2b
Adhere DSF to wrong side of all fabrics and cut all the components in the standard sizes, as instructed in the table above.
Step 2c
Cut the white appliqué background strips (see table for measurements). Press. Using a heat removable or water-soluble marking pen draw a line all around the edges of each panel ¾" from the cut edge.
Step 2d
Using our images as an indication: arrange the fabric stems, leaves and flowers (around ten) as well as hedgehogs in a pleasing vine shape on the white backgrounds. (You may have some leftover pieces – this is a creative process!).

Keep your design within the drawn borders, leaving about ¼" space between the line and your appliqué elements. When you are happy with your arrangement, press to keep them in place.
Step 2e
Sew all around the flowers, leaves and petals using your sewing machine. Sew with a straight stitch (free motion), blanket stitch or satin stitch, using matching threads. Keep the remaining flowers, hedgehogs' spikes and ears aside. They will only be attached in the last step, after the quilting has been done.


Step 2f
Press the appliqué strips well and trim them down to 9 x 43 ½" (22.7 x 110.5cm)


Assembling the quilt centre

Step 3a
Sew the strips and appliqué panels together, as shown in the diagram below. Press and set aside.
We can't wait to see your quilts coming together. Why not share your quilting journey with us on Instagram and Facebook?