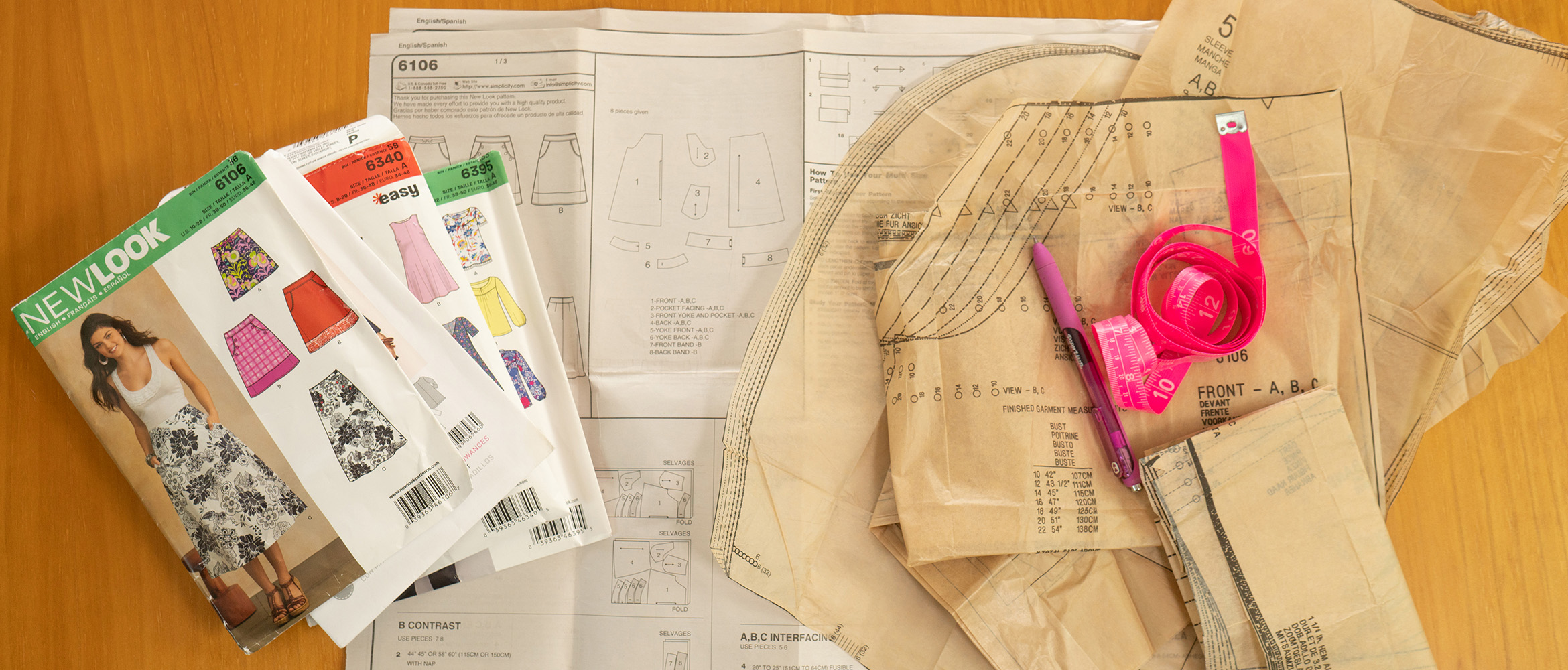 How to read Sewing Patterns: a guide
Using a sewing pattern is a bit like assembling flatpack furniture. You may think you know how to do it only to get halfway, lose your temper and then having to read the instructions anyway


Sewing pattern marks can also be daunting if you're not used to them. To help we've put together a beginner's guide to understanding sewing patterns, and demystifying the marks used on them.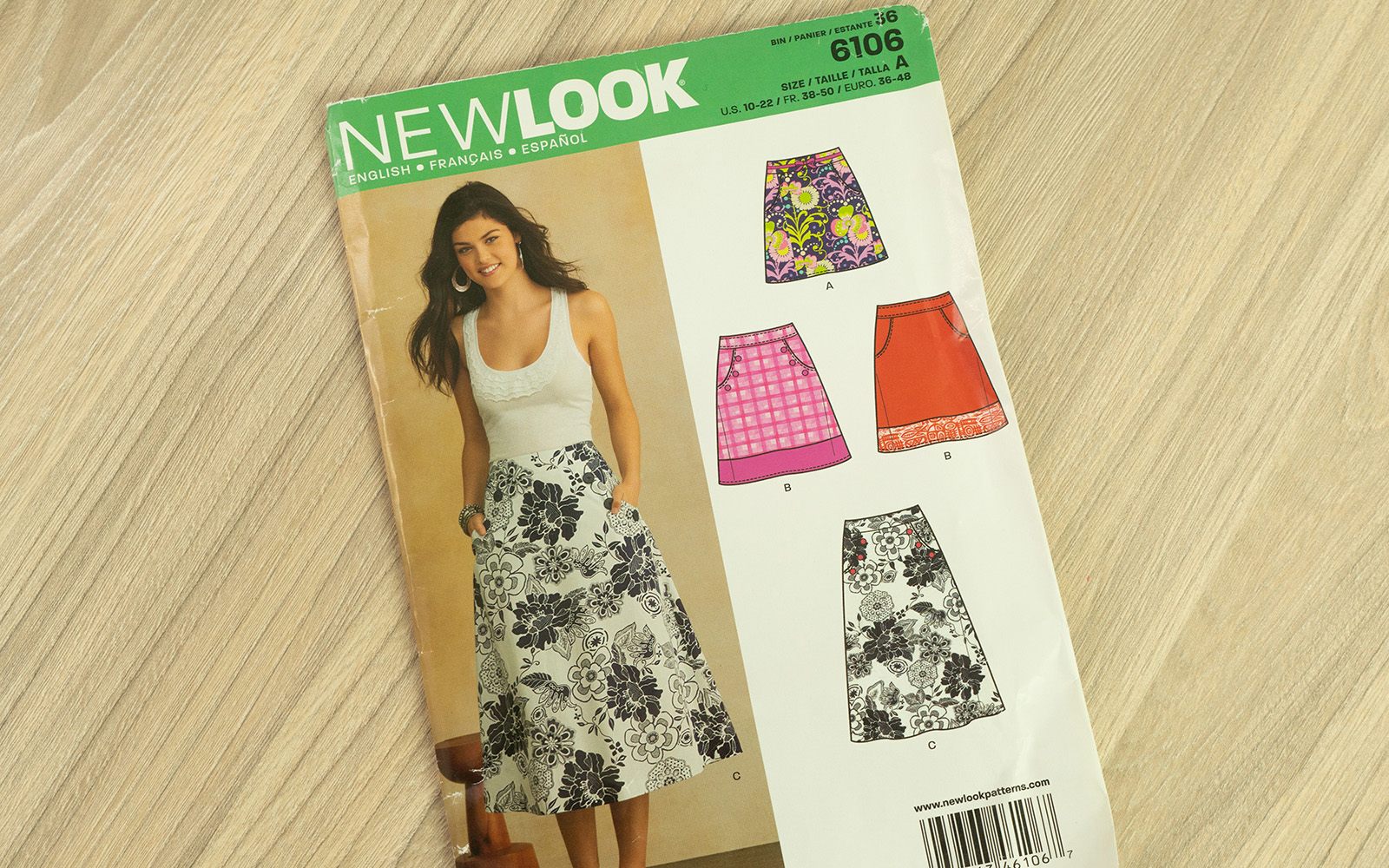 Let's start on the outside
On the pattern envelope there's a lot of information. This is mostly what you will need to know while in the fabric store.
On the front you'll see the picture of the item, and any pattern variables you can make.
On the back you'll find the following:
Body measurement and sizing chart (some brands have this in their catalogues or inside the envelope on the instruction sheet, so don't worry if you can't see it on the envelope packet).
Fabric yardage (amount) required for each variation.
Suggestions of fabric types.
Haberdashery needed to complete the item, eg. Buttons.
Drawings of the back view, so you can see what the back of the garment looks like.
(Please note, each pattern brand is different, so you may find some of these on the front, or inside the envelope).
Sizing up
The sizing on sewing patterns can be different from the size of clothing you normally buy, so it is very important to take your measurements first. The beauty of homemade clothes is that they should fit exactly, unlike store bought, so take the time to measure yourself!
Measure your chest, waist and hips wearing only undergarments. Also measure from the top of your neck to your waist, on your back and front (on the front make sure you include your bust). Make sure the tape is pulled snug around you – you are determining your body measurement here, not that of the clothes.
Your body size measurements are used to choose the size pattern you will use, and that will determine how much fabric you should purchase. It is a good idea to mark your measurements on the pattern sizing table on the envelope.
Don't be alarmed when the size is very different from what you normally buy. Pattern size numbers vary wildly from store bought clothes.
Your sewing pattern size is just a number so you know how much fabric you need, so it's important you take them properly. Don't suck your tummy in more than you normally do when measuring, because if you do you'll sew a garment that will only fit when you suck your tummy in that much all the time!


Ease-y does it
There is a difference between body size and garment size. The difference is called design ease.
Your body size + design ease = garment size.
Some garments aren't made with much ease, for example a formal pencil skirt. But floaty or relaxed items, like a hoodie or a buffet dress, will have much more ease added. Once you have some experience you can change the ease on a pattern yourself. This allows you to change the style or fit of a garment to suit your exact requirements.
What's inside
Inside the sewing pattern envelope you have the pattern pieces, and the instruction leaflet. On the instruction leaflet, you will usually find the following information:
Drawings of front and back of each garment variation.
Drawings of each pattern piece and a key to what they are for. Often this section also tells you for which variation(s) they are needed.
Cutting layouts for each variation. This will include which pattern pieces needed for the particular variation of the pattern, and layout diagrams for the different widths of fabric. You pick the appropriate one.
Garment construction information for each pattern variable. For example, the recommended seam allowance. Make sure you follow what the patten requires, otherwise the garment won't fit together properly. A waste of time, and good fabric!
Step-by-step instructions.
Pattern markings – some markings may differ from one pattern to the next, so make sure you understand the language! We have made a handy lookup table which you could cut out and keep at your sewing table – see below.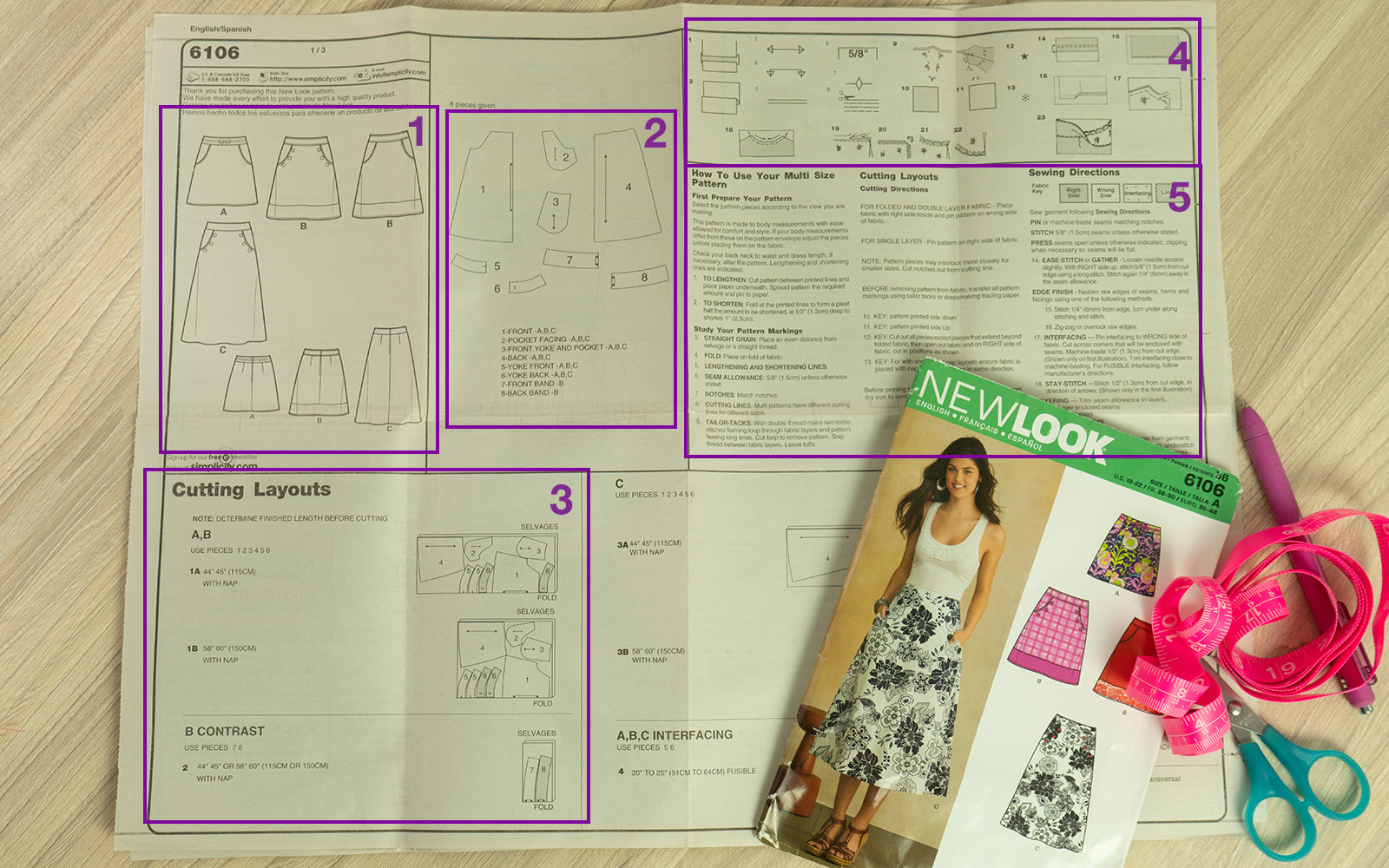 Pattern markings explained
The different lines, dots, triangles and squares found on a sewing pattern all indicate certain actions. They are there to guide you, much like the road signs. We've made a handy table to help you decipher these signs, why not print it out and hang it in your sewing room?


What is fabric nap?
Some fabrics with a directional pattern, with stipes or pile (eg. velvet) require the sewing pattern pieces to lay in a certain direction on your finished garment. You may encounter this term in the layout diagrams on the instruction sheet, as well as the fabric requirements on the back of the envelope.
If you are using a fabric with a nap, you may have to purchase a different amount of cloth, and you have to follow the layout diagrams in a different way to un-napped fabric.


Last words
A pattern can be your best friend if it is well written, and you pay it the respect of reading and understanding before doing. Measure twice, cut once!
There are many independent designers who produce excellent patterns, but unfortunately there are also the ones who don't. Buying a cheap pattern online and printing it on your home printer may sound easy enough, but it can be a nightmare to fit all the pieces together and to follow instructions if it isn't well written.
If you are new to sewing from patterns, choose a simple pattern from a reputable company and start there. Get help from your local craft shop, they may offer classes to help you, br able to put you in touch with other sewists who can help, and will be full of useful tips and fabric recommendations.


Happy sewing!