Autumnal Half Square Triangles Quilt
This is a busy, yet easy to sew quilt design that uses a repeating Half Square Triangle pattern.


This quilt showcases the use of the simple directional printed fabric I used, to create a design full of the colours of autumn. This would also work well with coordinating plains, or busy contrasting prints!


Materials
Sewing machine – I used the Brother NV1800Q
Quilting foot (optional)
Quilting fabrics
Backing fabric
Pen or pencil
Coordinating thread
Pins
Rotary cutter
Quilting ruler
Cutting at
Scissors
Iron
Curved safety pins (optional)
Quilt wadding
Binding, or create your own with coordinating fabric.
How to
Step 1
Gather your tools and materials for cutting out your quilt squares. Using your rotary cutter and quilting ruler, you will need 270 4.5" (11.43cm) squares in total. I chose to use five different colour fabrics so I cut 54 of each colourway.

Tip: you can adapt how many squares you would like, if you would like a smaller, or larger quilt size.
Step 2
Take one of your squares and using your quilting ruler and a pen or pencil, draw a line diagonally from one corner to the other to mark your square into two triangles.
Step 3
Place another colour square against it right sides together. Using a straight running stitch, sew either side of this line by approximately 0.25" (0.635cm).
I wanted an even number of all the different coloured Half Square Triangles so make sure to split out your colours evenly to each other.

Tip: I use my sewing machine foot as a guide for this. You could use your laser guideline, if your machine has one.

Step 4
Cut along your marked line to create two half square triangles.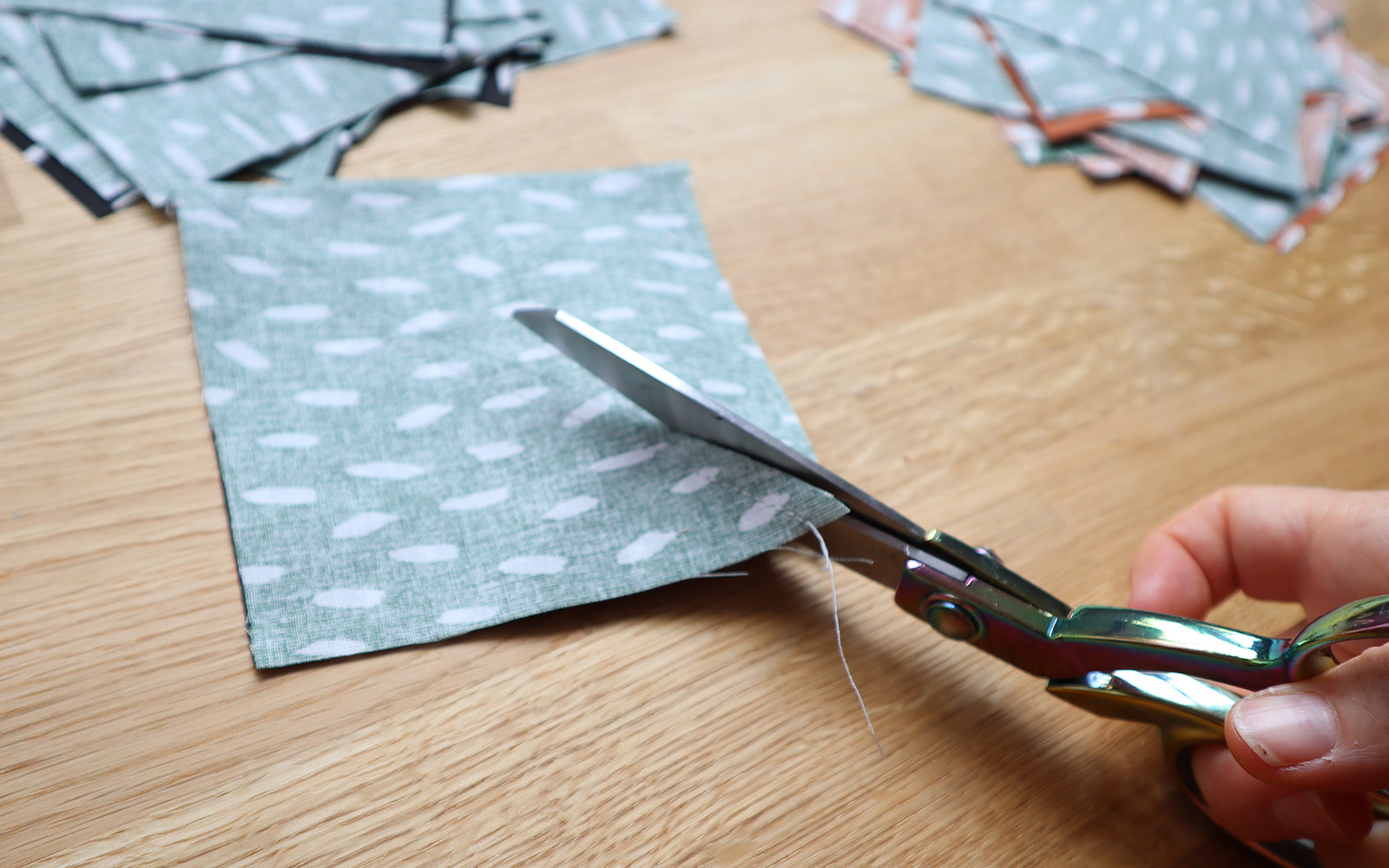 Step 5
Repeat with all your squares to turn them all into Half Square Triangles before pressing open to lay them flat.
Step 6
Lay your Half Square Triangle squares out into the pattern you would like. I chose a repeating order of colour combinations, making sure no same colours were next to each other. There are 15 squares across in each row, and 18 rows in total.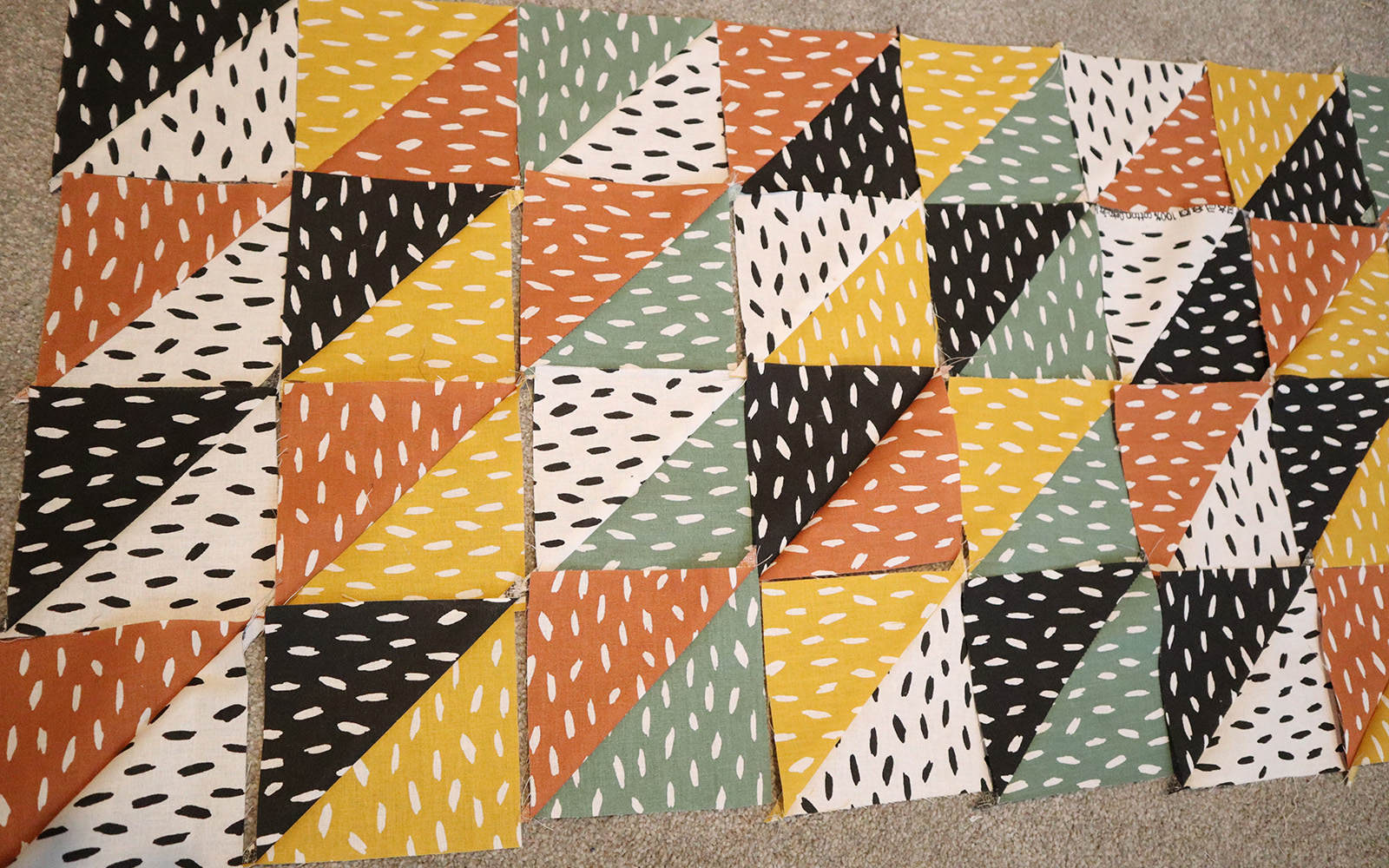 Step 7
Organise your columns or rows, so you are ready to sew them together.

Tip: sticky notes between each group helps me to remember which column or row I am doing next to ensure the design stays as planned.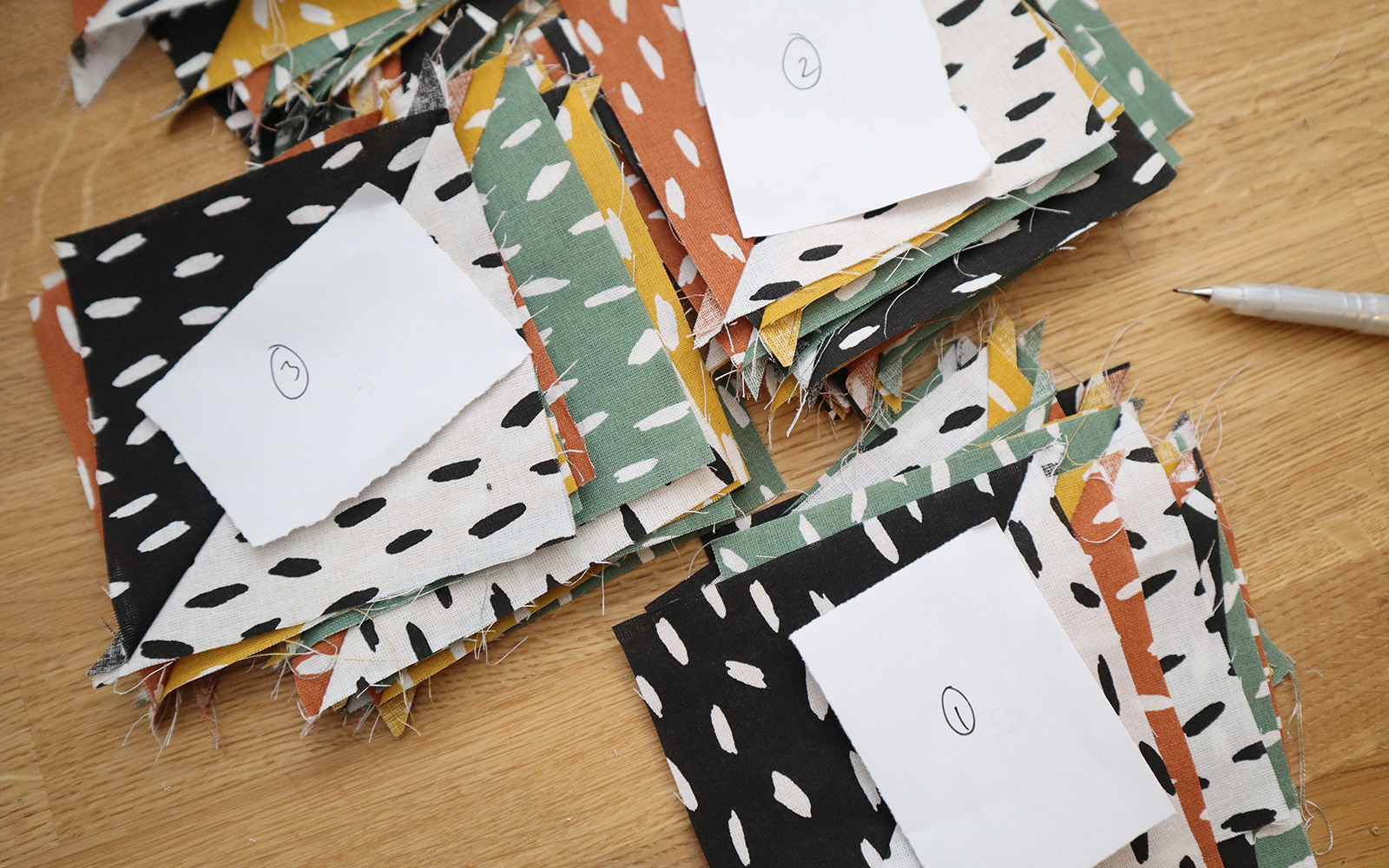 Step 8
Sew each HST square together to create each row.
Step 9
Lay your rows out to check the pattern is correct and press if required.


Step 10
Sew your rows together to start creating your quilt, making sure to line up each square corner.


Step 11
Once you have sewn all of your quilt together, give it a press if required. Now lay out your backing fabric, right side facing down. Then your wadding, and then your quilt top, right side facing upwards.

Tip: to help connect everything together and stay in position, I use curved safety pins, and roll the quilt tightly up together as I go.
Step 12
Attach your quilting foot (if desired) and sew quilting lines onto your now layered up quilt. I chose to use straight lines, diagonally across each diagonal row.
Step 13
Bind your quilt. I chose to create binding in coordinating fabrics, before machine sewing, and finishing with hand sewing and mitred corners.

Tip: if you'd like to learn how to bind a quilt with neat, mitred corners, you can view our How To blog here.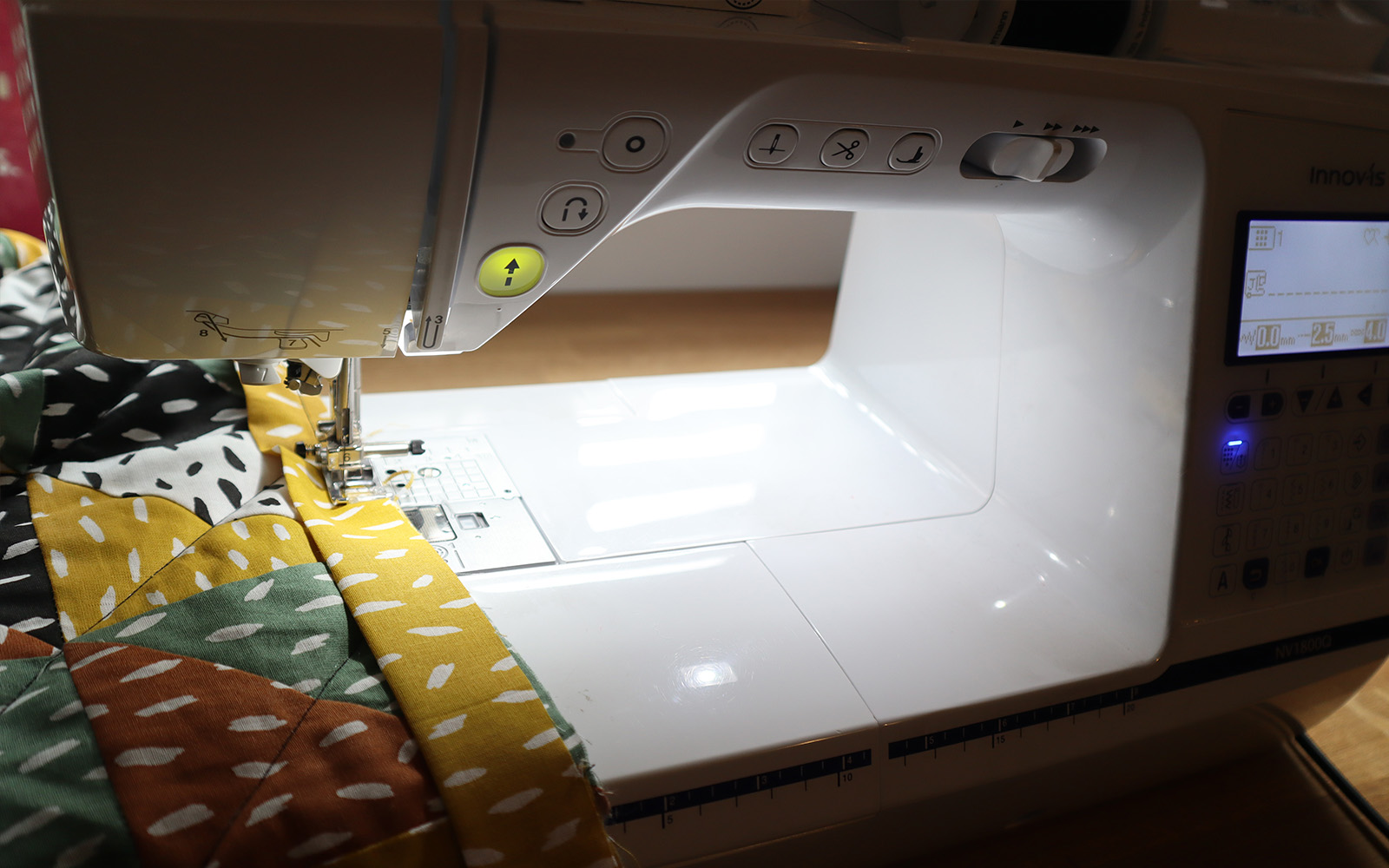 Step 14
Trim any threads required and et voila, you are done! One Autumnal Half Square Triangle Quilt.
I hope you enjoyed making this quilt. I'd love to see what you make, so why not tag myself and Brother into your makes, that way we can share and inspire the rest of the Brother sewing community.

Follow and tag Brother on Instagram and Facebook.
Come say hi, tag and follow me on Instagram, Facebook and Twitter.