How to: natural avocado dye
Through my work as costume textile artist in the film industry I have dyed metres (if not kilometres!) of fabrics using fast and concentrated chemical dyes
It's only recently that I've started to discover and experiment with the more environmentally friendly art of making and using natural dyes.

I was really surprised to learn that common fruits and vegetables (and more precisely the waste from them) can yield a lot of dye. I was even more surprised to see the colour they can turn fabrics.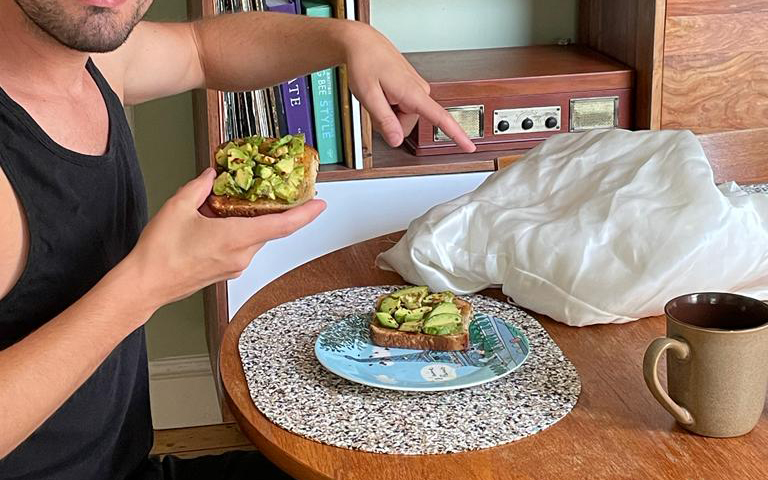 We like to cut down on food waste as much as possible at home. When I learned you could make a dye from the leftover skins and stones from making tasty avocados toast, I just had to try it. Especially as they don't turn your garments green! They make the most delightful peachy colour.

Before composting or discarding the avocado skins and stones, it's easy to extract ready-to-use dyes from them. Just pop your skins and stones in a pan, cover with clean water, and simmer for about an hour. Let them cool down over night.

Tip: when dyeing with natural materials it is usually recommended to prepare the fibres with a mordant (ie washing with a chemical compound to 'open' the fibres of the fabric), but with avocados everything that you need to dye silk and wool is contained in the skins!

If dyeing cotton or other plant fibre, I recommend to mordant the items for the best long-lasting results. I tend to use the soya milk method, which is a cheap and chemical-free way. The protein in the soya acts as a bond between dye and fibre.

How to pre-treat fabrics with a soya milk mordant: works best on cotton, linen and hemp.
Dilute the soya milk with water in a bucket (0.5L of milk to 2.5L of water).
Soak your items for 12 hours.
Wring excess out, spin and fully dry away from sunlight.
Dip again (only briefly this time), spin and fully dry away from sunlight.
Repeat a few times (the more dips the more the dye will adhere to your garment - I usually do two to three dips).
Ideally leave your fabric to 'rest' for a week before dyeing. However, I've had good results after two days but seven is best.
Pre-treated items can be stored for several months in a dry place away from sunlight.
I enjoyed the process of dyeing with this natural dye. As the chemical reaction can't be rushed, I took the time to slow down and watch the colour of the silk evolve. There is something beautiful about taking time to watch nature do its work, I find it meditative.

I used this dye to colour a metre of Glendina linen-silk I had left-over from a previous sewing project - my Gay Times Honours outfit in November 2021.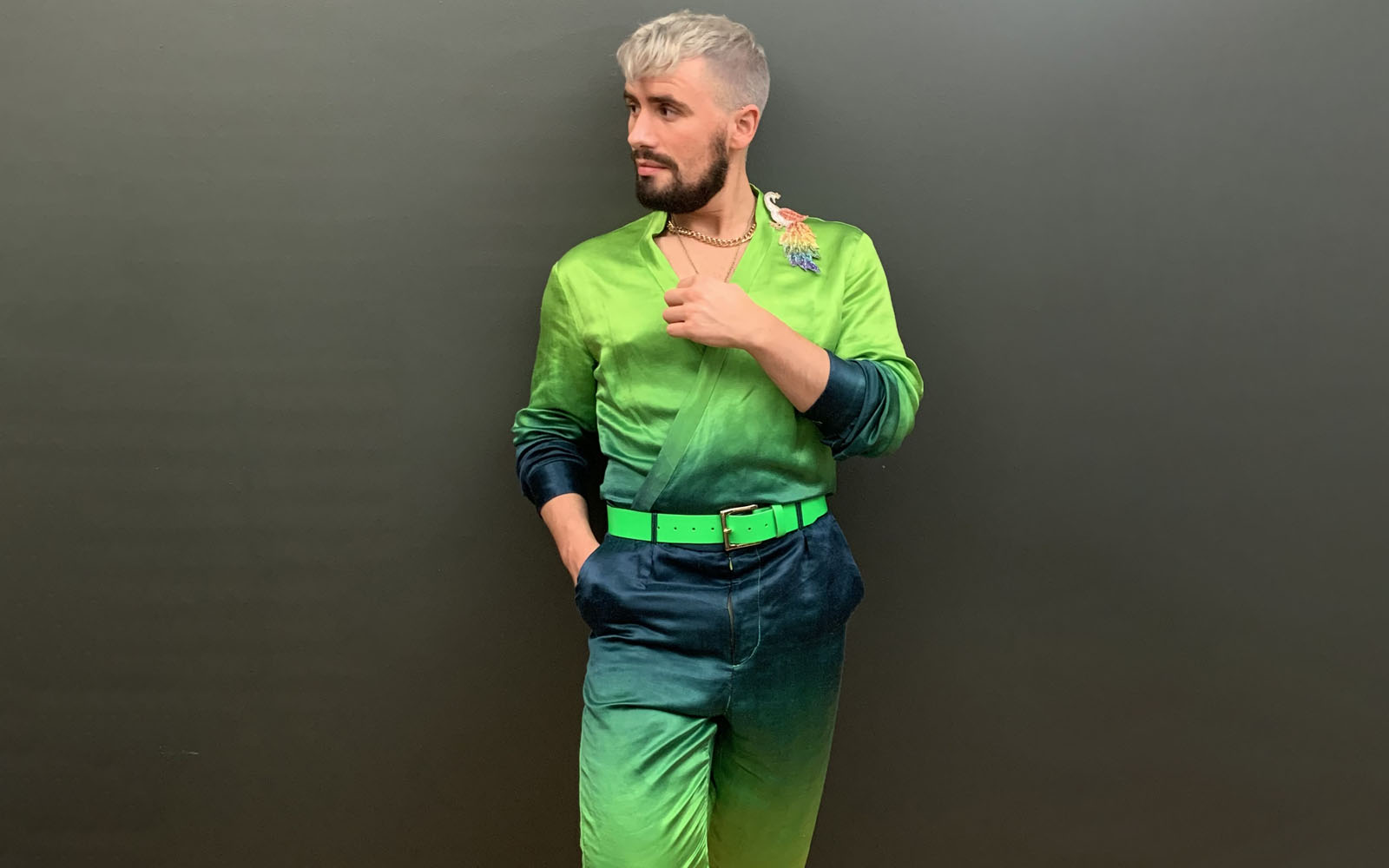 To dye your fabric:
Wash your fabric – use a gentle detergent and don't use a fabric softener.
Place your wet fabric in the prepared dye (top up with water if needed - the fabric needs to be fully submersed with plenty of room to move in the pot).
Bring to a simmer for about an hour - stirring regularly.
Leave to cool - or until the desired fabric colour is reached. I left mine overnight. As a rule of thumb, the longer you leave it to cool, the stronger the shade.
Remove your fabric from the dye pot, rinse in cold water, wring or spin out, and hang to dry naturally away from sun light.
Now your fabric is ready to use.
Tip: for the full how to, head to my Instagram @raph_sew_and_so. You can also find a tutorial on how to make a natural fabric dye from onion skins on my feed.
Once I had dyed the fabric to a lush peach colour that I was happy with, I decided to sew it into a loose-fitting tank top. For contrast I sewed on complimentary grey ribbings at the neck, armholes, and pocket opening.
This will be perfect top for the long hot summer days, but it can also be layered with a blazer for a more structured/formal look. I love the clashing contrast between the luxurious feel of the silk fabric and the casual sportswear trimmings.

Tip: when sewing knitted and woven fabrics together that have different stretch qualities, I recommend using your sewing machine's walking foot and a lot of pins. For even more stability, it is also a good idea to keep the stretchier of the two fabrics on the bottom layer when sewing. That way your seams won't be pulled out of shape under the machine and your final garment won't look distorted.

I self-drafted the pattern, but you could use this fabric for any vest, top, shirt, dress or skirt that calls for a loose, unstructured feel.
Like with most dyed garments there will be some fading overtime/after a few washes (I personally love the beauty of this fading). For long lasting colours avoid prolonged sun exposure, wash dyed items with a gentle laundry detergent in cool water and dry away from sunlight.

Tip: if needed, dye it again with more avocado skins!

Using food scraps is a fantastic, environmentally friendly way of dyeing, personalising or refreshing any fabrics or garments that you might want to give a peachy new life to.

I am now looking for more ways to naturally dye fabrics. I'm investigating onions, tea, walnuts, Dahlia, cosmos, calendula and many others. Keith and I are currently planting a full dyers garden, so that I will have lots of dye options available at home for whenever there is a need for some extra colour in a sewing project!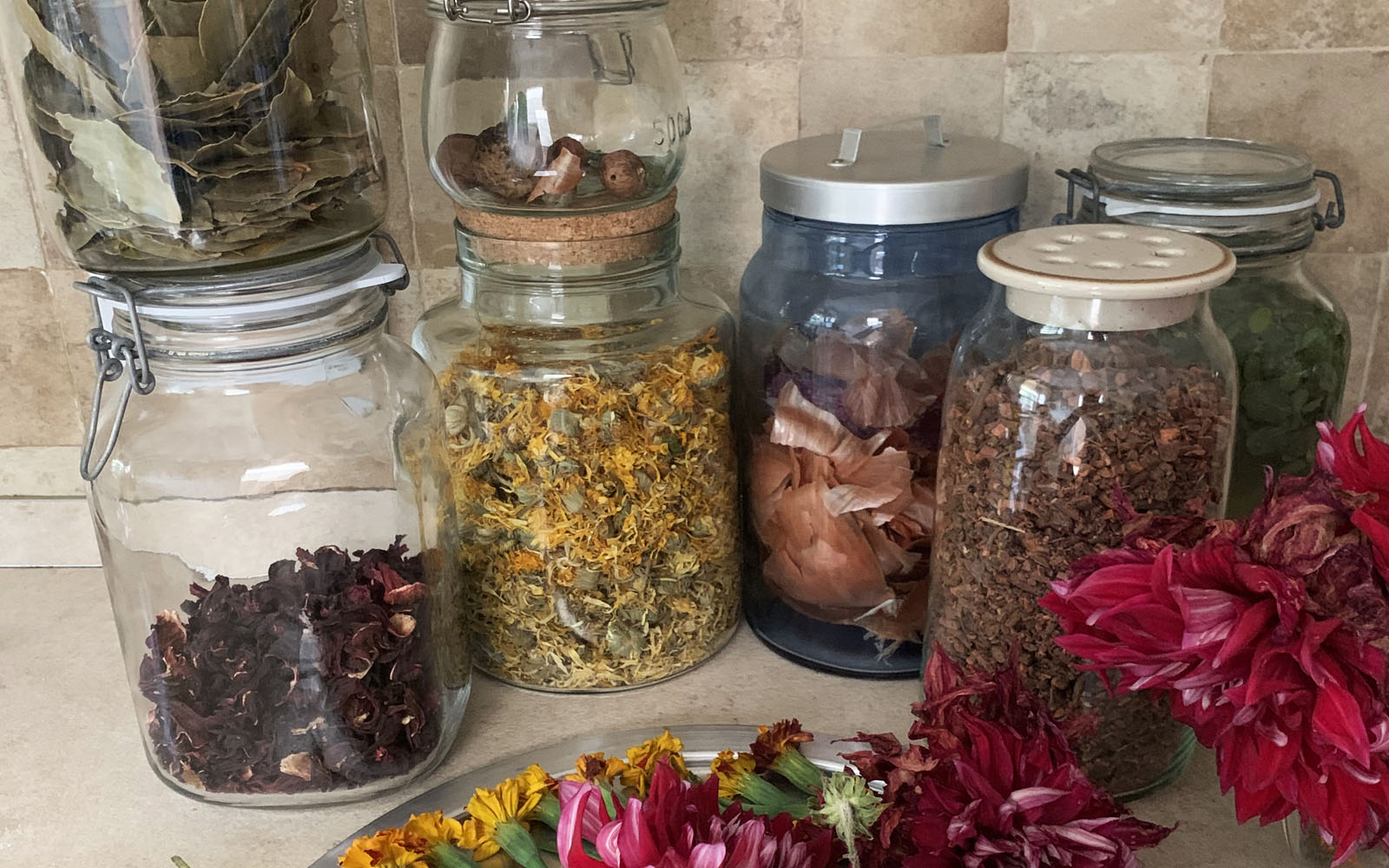 Have you ever made your own natural dye at home and what did you dye with it? I'd love to see if you try your hand at dying fabrics with food waste. You can find me on Instagram. Why not tag Brother on Instagram and Facebook too?