How to make birthday bunting
Nothing says happy birthday more than homemade bunting. This ScanNCut project is easy enough to make with the kids in an afternoon.

This birthday bunting pattern uses the ScanNCut's precision cutting technology to create easy to sew bunting pieces, that will give a crisp edge when you sew them. It's an easy cutting and sewing project that can be completed in an afternoon. It's a great project for beginners, or for getting the kids interested in sewing.

We've opted for 'Sara' on the bunting, but you can put any text you like. You could even add extra bunting triangles and add sewn on images, appliqué or embroidery too.

Using the ScanNCut's scanning function, this project is perfect for using up scraps of material or fat quarters, so it's time to raid your fabric stash!


Materials needed:
Cotton material for bunting – use as many colours and patterns as you like
Felt for letters – use as many colours and patterns as you like
Iron on appliqué paper
3m bias binding
Thread
USB memory stick to transfer patterns to your ScanNCut if your model is not WiFi enabled

Equipment needed:
General instructions relating to ScanNCut:
Always choose the correct mat for your material. The material should stick to mat securely. Test a small piece on a corner of your mat to make sure you can remove it again without damaging the material. You can find our handy mat and blade guide for ScanNCut DX models here, and the ScanNCut CM models mat and blade guide here.
We recommend that you do a test cut before you cut your design.
Patterns can be transferred to your ScanNCut via USB or WiFi, depending on your model.
Step 1
Download the triangle pattern (A) and transfer to your ScanNCut via pen drive or WiFi.
Step 2
Prepare your ScanNCut mat by placing the High Adhesive Support sheet onto the mat following the instructions on the package. Place your fabric smoothly onto the mat, making sure there are no bubbles or creases. Cut and remove gently from mat using your spatula.

Repeat and cut as many triangles as you'll need for each letter. You'll need two triangles for each piece of bunting, so for 'Sara' you'll need to cut 12 triangles (two for each letter, plus an extra two triangles at the front and end of the word).

You can use the ScanNCut rotary blade to cut your material, or the Auto Blade. The rotary blade provides a finer cut and better definition, but it's not integral to the project.
Step 3
On your ScanNCut screen choose the font you would like write your text in, then type in the word you want to cut. Make the font 5cm tall.
Step 4
Iron appliqué paper to the felt pieces you will use for the letters. Remove backing paper.
Step 5
Place your felt appliqué side down on your standard tack ScanNCut mat, test and cut.
Step 6
Place one letter per triangle, appliqué side down to the right side of the triangle and iron into place.
Step 7
Once you've ironed on all your letters, select a topstitch on your sewing machine and sew round each letter. You can also use decorative stitching if you wish.

Step 8
Once you've sewn around all the letters, place two triangles right sides together, pin in place. Sew round the edge of the two sides of the triangles with a 0.5cm seam allowance. Leave the top edge open. Repeat with all the triangles.

Tip: remember to backstitch a couple of stitches at the beginning and end of your stitching to secure in place.

Step 9
Trim the points of your triangles carefully - do not cut through the sewing stitches!

Turn the triangles the right side round. Use your finger or the back of a crochet hook to push the corners into a sharp point. Iron flat. Repeat with all the triangles.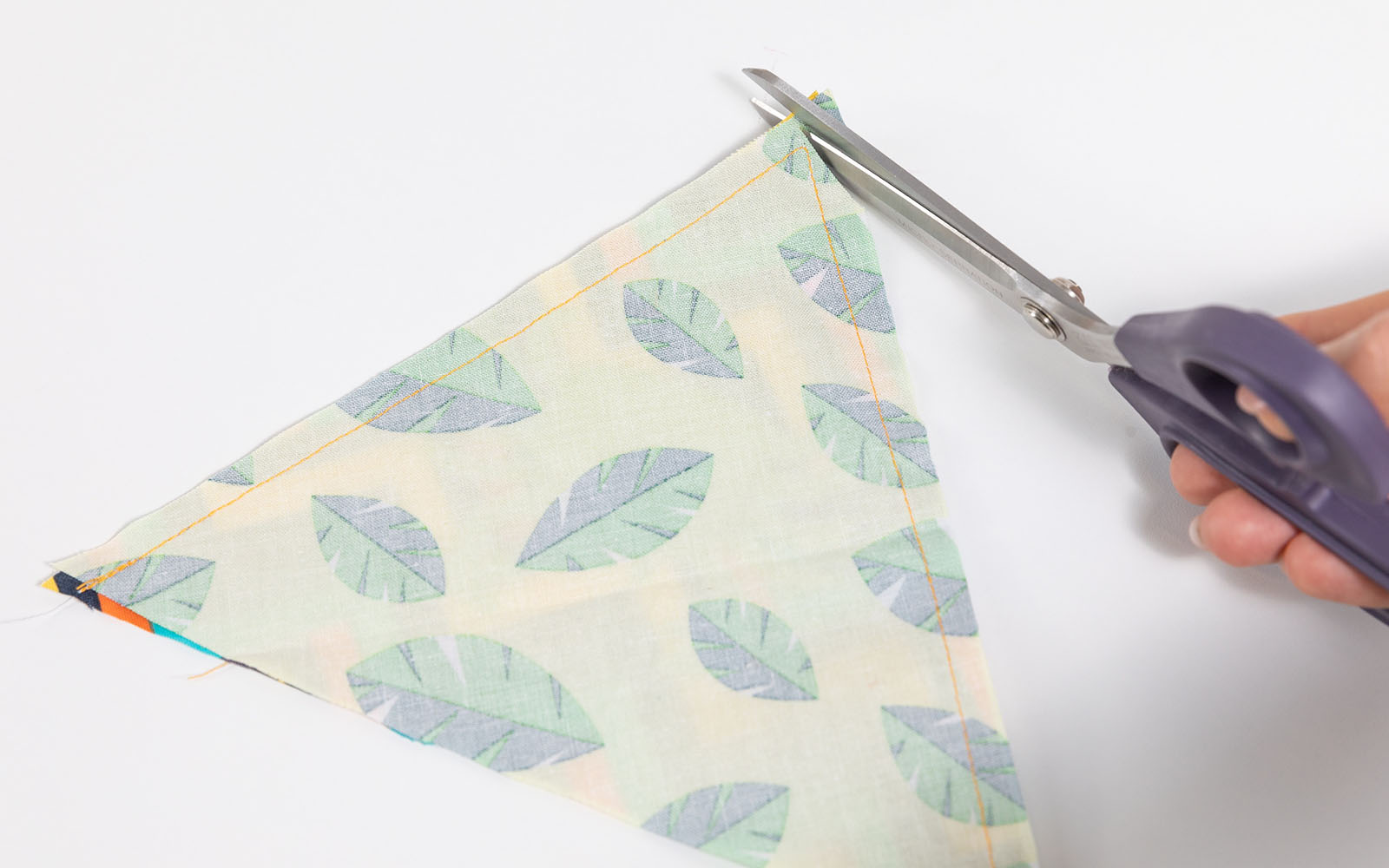 Step 10
Place the triangles in the right order, facing the right way up.

Fold the bias binding over the top edge of the triangles, leaving a 2cm gap between each triangle. Pin in place. Topstitch on the edge of the bias binding.
Step 11
Put up the bunting and let the party begin. To add extra creative touches to your party you could make a matching table runner, tablecloth, napkins and even party bags. The only limit is your imagination!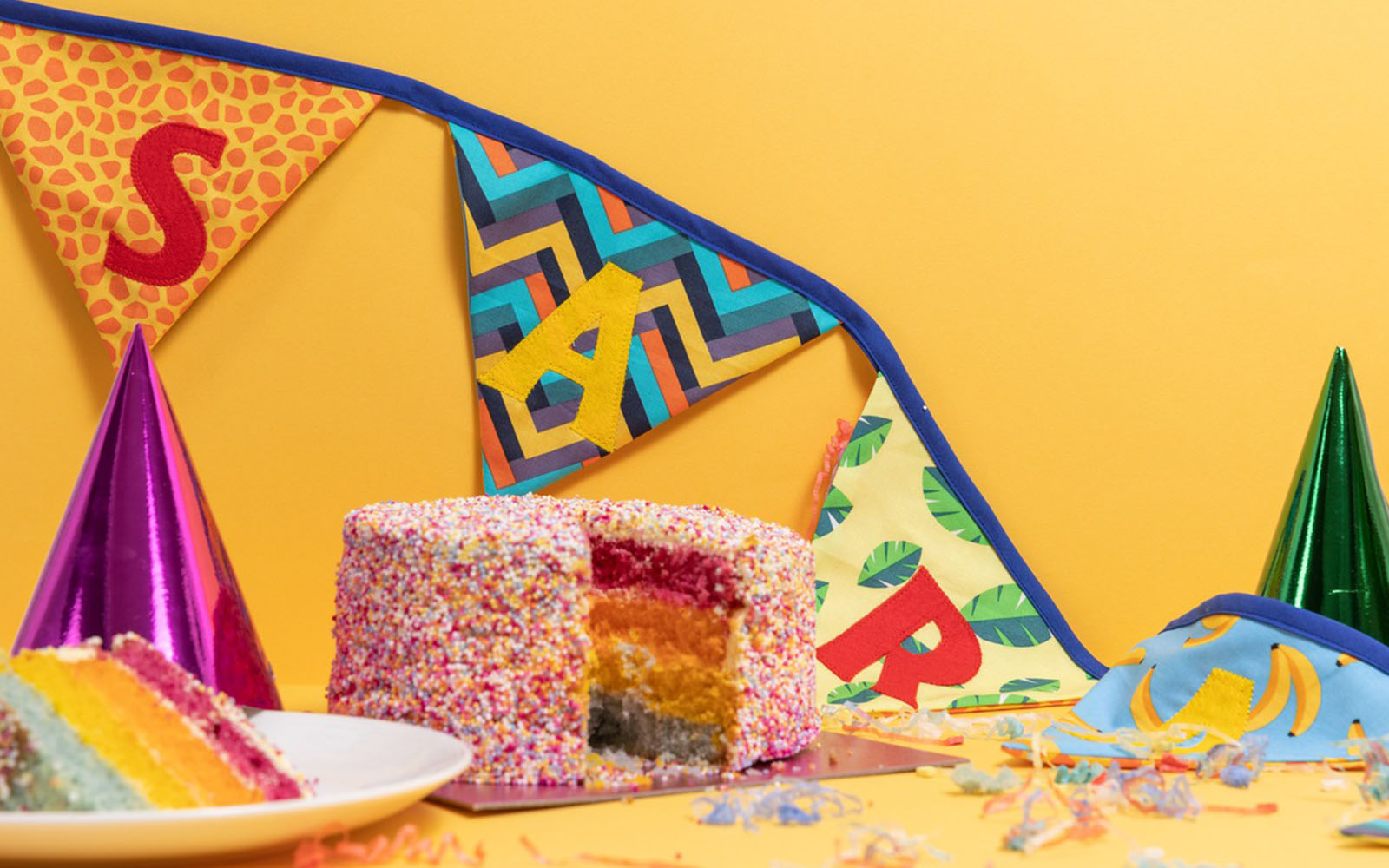 We can't wait to see what you make! Remember to tag in Brother on Instagram and Facebook so we can share your makes and inspire others.