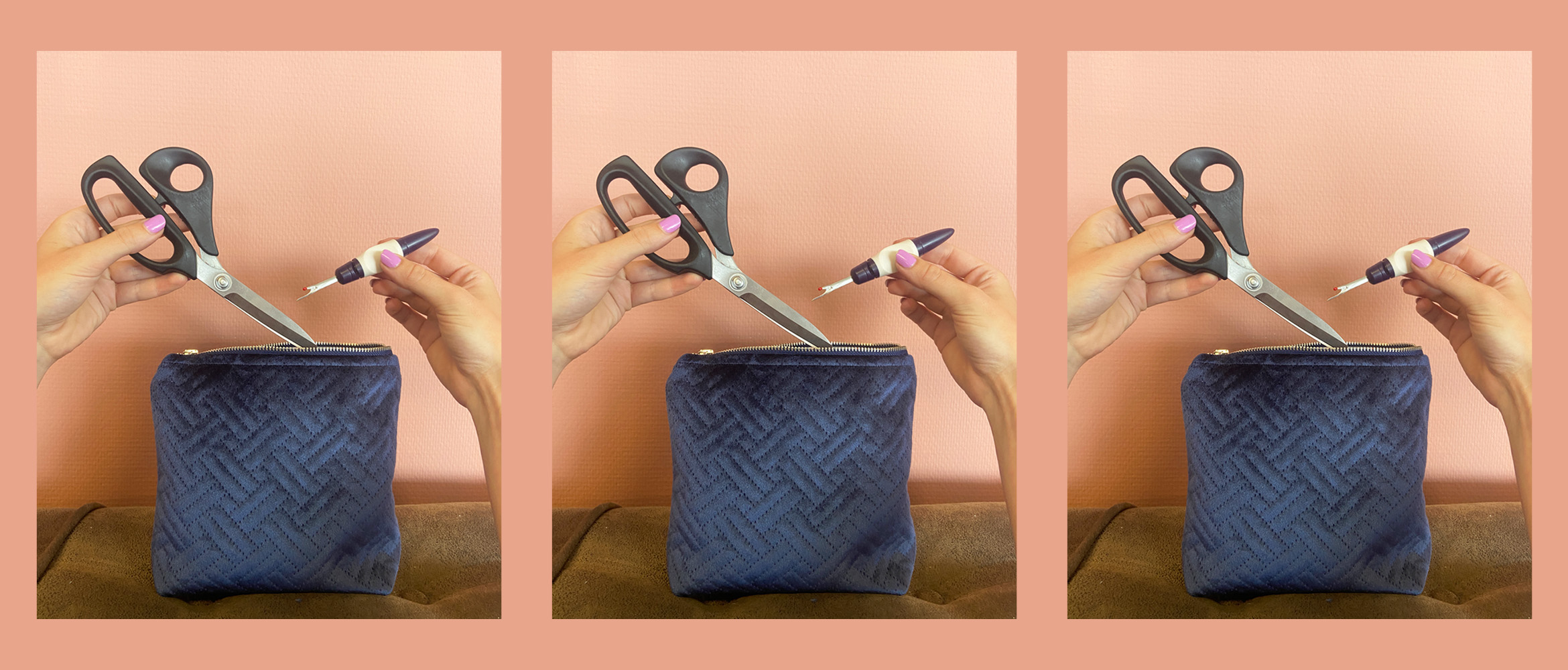 Sew yourself a mini pouch!
Use this pouch for all your sewing tools, make-up or jewellery.

This little bag is super easy to make, and we will show you how!

What do you need?
Sewing machine
Zipper (choose your own length!)
Fabric for the outside of your bag. Measure the zipper width and decide how high you want to make your bag. (We made it 22 cm high). You'll need two of those squares.
Fabric for the lining of your bag. Take the same measurement as the outside fabric.
Yarn, in both fabric colours. We used navy and light blue.
Fabric scissors & pins.
Let's start!

Step 1
Time to get started! Grab your zipper and one piece of the outside fabric. We used a quilted piece to make our bag extra puffy. Make sure to put your zipper faced down on the top of your fabric. Put your lining piece on top like a sandwich. Pin the 3 layers and sew around the edge. Make sure all the three layers are positioned like in the picture.


Step 2
Flip the lining and the outside fabric to make sure the zipper is visible. Make sure the upper thread of the sewing machine is matching with your outside fabric and the under thread should be matching with your lining colour. Now it's time to make the perfect topstitch!
Step 3
Do the same thing for the other side of the zipper. Always check if your zipper has enough space to open! Close the zipper and lay the two lining parts and the two outside parts on top of each other, right side to right side. Pin the sides and stitch all around. Make sure to leave 8 cm open in the lining piece.
Step 4
Fold the corners like in the picture below and stich a line of 4 cm. Do this for all the corners. We are making a small bag so a 4 cm corner on the bottom of the bag will fit perfectly! But feel free to change this length to a maximum of 7 cm!
Step 5
Trim the edges of the corners and flip your bag inside out. Your bag is almost done! You only have to close the lining with a small topstitch and your pouch is ready to be filled with all your goodies!
We can't wait to see what you make! Why not tag us on Instagram and Brother on Instagram and Facebook so we can share your makes and inspire others?